Request a Free Quote or Call (832) 713-3545
Tru.Shine Window Cleaning Of Clear Lake, TX
We offer a variety of window cleaning services and proudly serve the Houston area.
Commercial & Residential Window Washing

Store Front Window Cleaning

Interior & Exterior Window Cleaning

Pure Water Cleaning
All in-home estimates are FREE & payment is only due upon satisfactory completion! We look forward to working with you.
Licensed & Insured

48 Hour No-Rain Guarantee

Locally owned in Houston, TX
Residential Window Cleaning
If you are a home owner, you know cleaning windows can be a pain. It is a very time consuming task, and usually involves climbing up a ladder.  Even with all of the products on the market for cleaning your windows, nothing can take the place of a professional cleaning service. The simple reasons for having Tru.Shine clean your windows are:
Maintain the value of your home
Keep your home sparkling and beautiful
save money on repair or replacing windows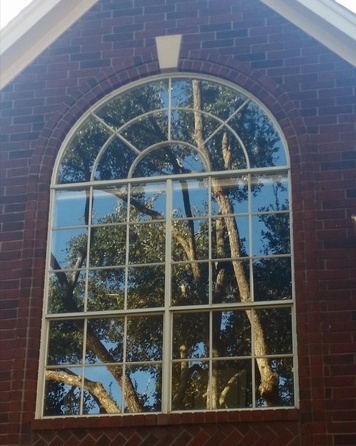 Home window cleaning is made easy when you choose Tru.Shine Window Cleaning. All you have to do sit back, relax, and do what you love, while we do what we do well. Here's what to expect when you hire us.
We will remove all the screens.
We wash & rinse the screens upon request.
We then begin cleaning the outside of your windows using our strip washer and squeegee.
We scrape the paint, and bug droppings outside of the windows.
Next we towel dry the edges on the windows.
We wipe and clean the sills at no extra cost.
Then we put on our shoe covers and begin work inside.
We start the same process of washing and squeegeeing the windows.
We also wipe the sills  inside the house.
To finish up we walk around the house, double check our the window cleaning for streaks, and make sure everything is back in place.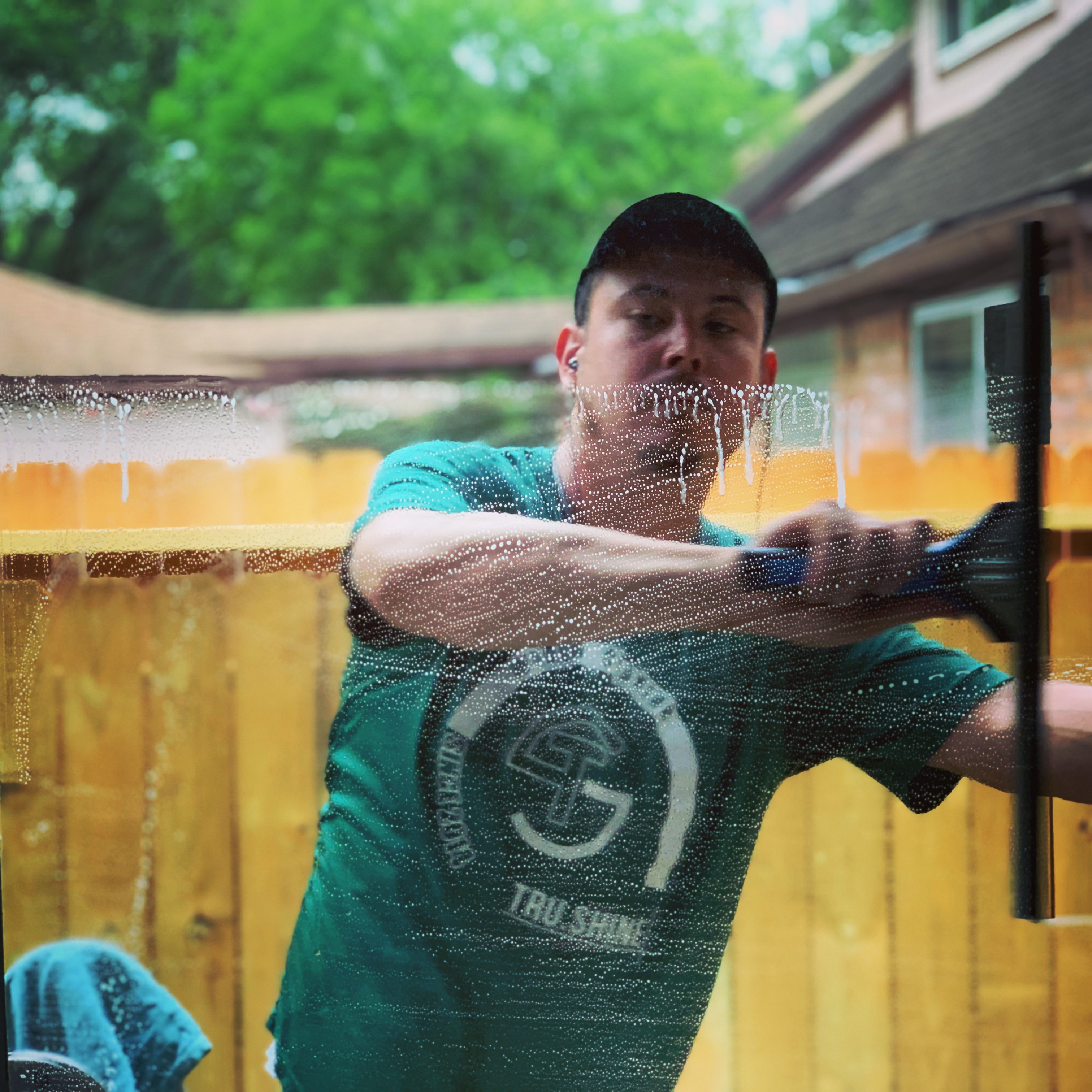 Commercial Window Cleaning
When we clean your windows, our professional, uniformed staff will show up on time and treat your business as if it were our own. There are no jobs too big or small. Our respectful window cleaners can handle everything from a small family business to large office buildings. Whether we are visiting you twice a week or twice a year, summer or winter, we will be there for you.
Our professionals are not just any window cleaners. When we work for you, we make sure everything is taken care of so you can have a worry-free experience.
Exterior commercial window cleaning
Interior commercial window cleaning
Wipe down the frames
Wipe all the sills
Dry & wipe all window cleaning related drips off of the ground
Tru.Shine Customer Promise
The service we provide enhances the quality image of our customers homes and businesses. Clean windows can increase the curb appeal of your house or attract more customers to your business. Whether you are a Houston homeowner or business owner, your windows will be cleaned by a licensed, and insured professional.
We stand behind our work, providing you with the best value in window cleaning. We only leave behind incredibly clean, streak-free, and shining windows with 100% satisfaction guarantee. We are a locally owned and operated in Houston, and we are just around the corner for any of your window cleaning needs.
If you are like most of our customers, you have a to-do list a mile long. Between taking the kids to soccer, shopping for groceries, or a big project at work or home, life keeps you incredibly busy. Then there are those windows that need to be washed, cleaned, and polished. The entire process of dragging ladders out, maneuvering around the house without damaging the shrubbery, positioning the teetering ladders carefully without bending rain gutters or cracking a window can be a daunting proposition—which is why people put it off. Leave your cleaning to us and save yourself the time, stress, and potential injury.
Let the professionals at Tru.Shine Window Cleaning take the window cleaning off your list. You have better things to do than struggling with ladders, windex, and climbing shaky ladders to put yourself in precarious positions.
Whether you are tackling spring cleaning or preparing for the holidays, we can remove one of your headaches. Our exceptional window cleaning service quality is unmatched, and our skill will leave you stress-free to focus on the things you love to do.
Frequently Asked Questions
How long does window cleaning take?
Depending on services ordered, and the size of the job, it can take anywhere from an hour to multiple days. We can give you an approximate time based upon your individual needs.
Can I make an appointment on-line or via email?
For the most accurate appointment times and estimates, a short phone call or filling out our convenient form works best. However, if you have questions, please feel free to email us as well at info@trushinewindowcleaing.com
Is Tru.Shine Window Cleaning insured?
Yes! Our company has a, peace-of mind, one million dollar liability insurance. We can provide our certification if requested.
Can you remove paint/varnish from my windows?
Yes we can! We have a process to safely remove raw materials such as paint, varnish, stickers and even concrete from your windows. Normal build-up is included with our regular cleaning. However if there is an excessive build-up, it will fall into construction clean up category which will be an additional charge.
Is it possible for you to clean my foggy appearing windows?
Yes and No. If the fog lies in between a double-paned window, then it is a matter of the seal on the window itself, not cleaning. Our suggestion is to contact your window manufacturer and ask about your warranty. Most window manufacturers warranty their glass seal for 10 years. Give us a call we'll be glad to help to determine what your best option is.
What is hard water stain/degradation?
Over time, if your glass is not cleaned regularly, natural environmental factors such as acid rain can cause oxidation or hard mineral buildup. With Houston averaging 50″ of rain fall yearly, regular cleaning is necessary to prevent permanent damage to your windows.
Do you remove hard water stains?
Yes we do! We are a full service glass cleaning company, so we will remove all hard water stains from your windows if requested. Hard water stain removal is not included in a regular window cleaning, and it will fall into a spread category. Give us a call for a quote on your needed services.
Does Trushine window cleaning have any terms and conditions?
Yes we do! We at Trushine window cleaning believe on being honest with our clients, therefore we would like them to know All about terms and conditions, therefore we provide that with every estimates and our website for public view.
How much will it cost?
Every job is unique and will be determined on a case-by-case basis. Cost is generally calculated by services requested and length of time. We do offer no obligation, super easy estimates for all window cleaning services before each job. Fill out the free estimate form or call 832-713-3545 to request your quote.
Do you have any coupon$?
We are not currently offering any coupons, however if you choose more than one different cleaning service to be provided by our professional, we will knock 10% off your total bill. We also offer discounts for all our returning customers. What better way to save and know you will receive repeated, quality service?
Do you have weekend appointments available?
Weekend appointments are available. Please keep in mind all weekend appointments are made on a first come first serve basis.
How will you guys treat my property?
We take pride in our work, and treat every customers' home or business as if they were our own. Our number one goal is safety, an second is quality. We wear protective shoe covers before entering your home and make sure we are as clean as safe and possible. Our top priorities are safety and quality service. We wear protective shoe covers before entering your home to be sure that we are not creating any mess so you can rest easy.
Do I have to be home for your window cleaning service?
We prefer that you are home during our window cleaning service. However it is not always necessary for you to be home for the entire appointment. We can start our interior home window cleaning service, and you can lock up your home and leave while we continue on the exterior window cleaning. As long as we have access to all windows, your presence is not necessary.
How often should I clean my windows?
Our recommendation is a minimum of twice yearly for Houston. Regular glass cleaning is highly recommended to prevent hard water stains and to maintain your windows' luster as well as your home's or business's appearance. We will also give out up to 10% discount on your bill if you are cleaning your windows on a regular basis.
Will you remind me if it is time to clean my windows?
If you would like to be placed in our regular maintenance schedule, just ask the technician or give us a call at 832-713-3545. We will offering discounts for those folks who clean their windows regularly.
Location
4808 Fairmont PKWY, #256
Pasadena, TX 77505
Email
trushinesoutheast@gmail.com