Gutter Screen Installation
CALL NOW (832) 713-3545
Special for jobs requested by :
Tue 09/26/2023

Gutter Screen Installation
TruShine gutter guard installation professionals in Houston, Texas offers 5, 6 and 7 inch gutter screen installation in all Houston areas, including Richmond, Katy, Sugar land, Galleria and etc..
Here at TruShine, We offer different rent types of Gutters guard, below two of our most favorites.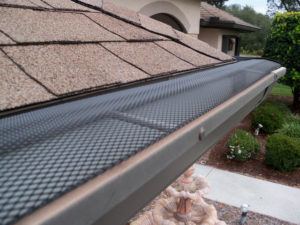 Black powder coated
EZ lock gutter screen is one of our most favorite screens yet. our Gutter guards locks in to the gutters with out damaging your singles. Like all gutter protection products, depending on your debris type and load, this gutter guards may require maintenance from time to time, by brushing off the top of the screens. 
Mesh Gutter Screen
Mesh Gutter Guard keeps out leaves, pine needles, roof sand-grit and other debris from your gutter. This screen allows 100% of the holes to filter rainwater coming down your roof and into your gutter.
Gutter Stick
The Gutter Stick is a low cost alternative to gutter guard installations! It is the most advance downspout strainer on the market. It prevents downspouts from clogging between your regular maintenance cleans.
Gutter Repair
Sometimes Gutter seals can come loose over a long period of time due to lack of proper maintenance, Our professionals here at TruShine are able to
Find the Leaks
Seal the loose End caps or Faulty seams
Add hangers to sagging gutters
Re-attach downspouts to gutters and sideing
Insert splash guards to prevent Over flows
Attach Gutter Extensions