HOUSTON WINDOW CLEANING
We offer cleaning services In Houston, TX. Call us with your cleaning needs and let us do the work.
Window cleaning

Screen repair

Commercial window cleaning

Commercial gutter cleaning
Houston's Best Window Cleaning Company Since 2014
Well Trained, Insured and In-house Technicians
Over 3400 Satisfied Customers in & around Houston
Top Rated Local Winner 4 Years in a row
In business since 2014
Satisfaction Guaranteed
Commercial and Residential
Ready For Clean Windows & Clean Working Gutters? WE CAN HELP.
It's time to stop feeling out of control of your Home or Business. Make a change, hire TruShine Window Cleaning of Houston, and rest assured we're cleaning your building like our own. 

Schedule Service
Review and Schedule your Favorite cleaning package

Enjoy a Clean Property
Breathe a sigh of relief and know your building is cleaned. 
Read Few Testimonials and See What Awaits You!
From start to finish, Arman and his team were professional and prompt. They did a great job with our window cleaning. We had them do our exterior windows, but next time will hire for interior too. 
Thank you. I Definitely recommend them!
Richard Grath
I had some gutter repairs done, a drain cleaned, and gutter covers installed. The owner and employees were all nice, did good work, and for a very reasonable price. Definitely would recommend!
Rajan Purcell
They came out and cleaned the gutters and installed gutter guards on my two story home. Finished product looks great. The crew did a great job cleaning up after their work. Would highly recommend their services!
Travis Wells
Showed up on time for estimate and to complete the work. The worker was thorough and made sure everything was gleaming! Very happy with the pressure washing job them did on our house. 
Diane Bowdoin
Areas of Texas We Serve
We offer service to customers in Houston, Pasadena, Pearland, Sugar Land, Missouri City, Galveston, Clear Lake, Bellaire, Memorial City, Katy, Richmond, and surrounding areas of Harris County, Fort Bend County, and Montgomery County.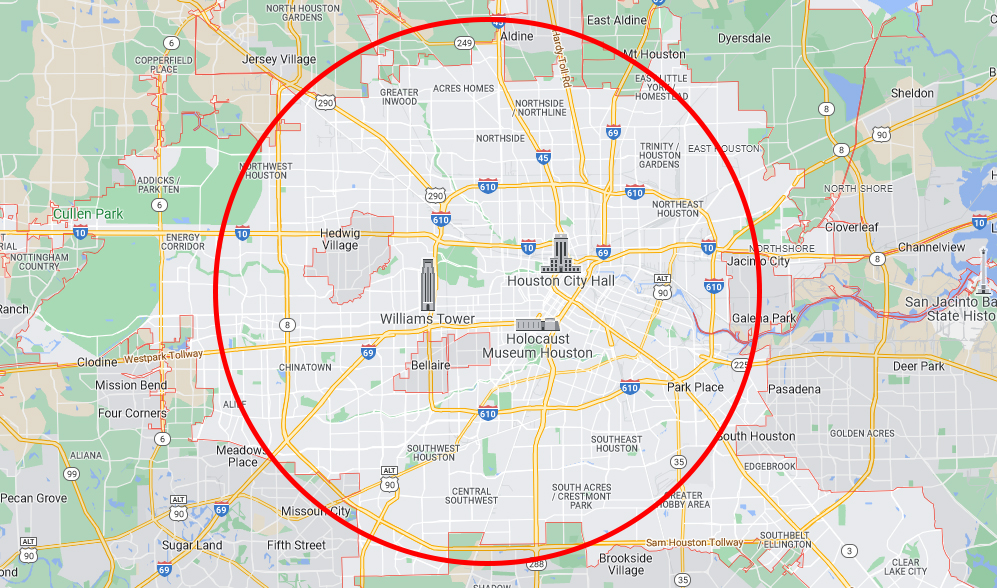 Let the Light Shine Through With TruShine Window Cleaning!
TruShine offers window cleaning services in and around the Houston Metro Area for both residential and commercial properties. You're probably thinking "why do I need to hire a professional to clean my windows?" Most people don't have access to professional window cleaning equipment and chemicals for their homes or even businesses. If you are a homeowner and you've tried to clean your own windows before, you know that it takes a lot more time and effort than you think it does! If you have tall windows or multiple levels, there may be some areas that you simply cannot easily or safely reach. Our professionals come with the equipment and experience needed to safely and properly clean every window in your home.  Commercial buildings can also present numerous challenges for accessing all of your windows. TruShine guarantees all of our work comes with a Rain Free Guarantee. No, that doesn't mean we guarantee it won't rain! It means that if you find streaks within 48 hours of our services, we will come back out to solve the problem! Our professional window washers come with professional cleaning chemicals that are biodegradable and safe for humans, pets, upholstery and flooring. We can work around most drapery and window treatments, however we will inform you in advance if we feel we cannot so we can come up with a solution.
Frequently Asked Questions Window Cleaning Questions
What is included with our window cleaning services?
We make sure that all windows and sills are cleaned, inside and out, bugs and dirt removed, screens removed and cleaned as necessary, and your windows left sparkling clean!
Why is it important to have your windows cleaned?
Believe it or not, not cleaning your windows can actually damage them in the long run. Windows are not simply made of glass, but multiple layers that help protect your home or business from UV rays, heat and other elements. When contaminants such as dirt and bird droppings stay on the window surface for too long, they can cause damage to the window that is irreversible. By having your windows regularly cleaned, you can prevent this damage. Clean windows allow you to have an unimpeded view both night and day, meaning better visibility and safety. Having your windows regularly cleaned can also prevent any damage to the seals around your windows and increase or maintain their efficiency.  Damaged windows can have issues with condensation or fogging, leading to having to replace your windows. Our professionals will also alert you to any potential safety problems such as windows that have been painted shut or have major issues so that you can address them before they cause a problem. Clean windows also increase your curb appeal, can help maintain your property value, and attract customers or clients to your commercial property.  Maintaining your clean windows is important too! We offer membership plans that are right for your home or business so that you have clean windows year round. For homes, we recommend having your windows cleaned at least twice a year, and at least monthly for most businesses. This ensures your windows not only look great, but the risk of permanent damage from contaminants is minimized. 
TruShine offers our window cleaning services in the Houston area year round, with the exception of days with major rain or wind. We know that keeping your windows clean year round is important and therefore we keep going in every season.  We are fully insured for all of the work we do. This means that there is no risk to you having TruShine professionals clean your windows. It also means that you don't have to be the one climbing the ladder, or have an employee attempt to clean your windows and have an accident.  If you're not sure you can pay for the cleaning up front, the great news is that we offer payment plans! You can apply for installment payment online in a few simple steps. We can get you started with a free on-site quote. It's simple: contact us, we assess your property and make recommendations, you schedule the service you want, and you get to enjoy beautifully cleaned windows without any hassle.
What is the best way to clean windows?
Professional window cleaning services provide a higher level of quality and expertise that can't be matched by DIY efforts. The right cleaners will use special tools and techniques to ensure that your windows are thoroughly cleaned with no streaks or smudges. Additionally, the professionals have access to materials and solutions that won't damage your windows over time, while still providing thorough cleaning results. In addition to this, professional window cleaners will also be able to assess any problem areas such as cracks or mismatched frames, and can provide advice on how to get these issues fixed without increasing your costs. Hiring a professional window cleaner is a great way to keep your home or business looking its best while providing an extra layer of protection for expensive panes of glass in commercial settings.
If you're looking to clean your windows yourself, the best way to clean windows is to use a mild detergent mixed with warm water and a soft cloth or squeegee. You should always start in the top corners of the window and work your way down, using overlapping strokes to avoid streaks. After cleaning the glass, you should use an absorbent cloth to remove any excess moisture from the frame. Avoid using paper towels or abrasive scrubbing pads as these can cause scratches on the glass surface.
How often should I have my windows professionally cleaned?
Professional window cleaning is a great way to keep your home or business looking at its best. How often you need to have your windows professionally cleaned depends on a number of factors, including the environment and weather, as well as how much dirt and dust accumulate around the frames. Generally speaking, it's recommended that windows are professionally cleaned at least twice a year. However, you may wish to consider having them done more frequently. Professional window cleaners like TruShine window cleaning Houston can assess and advise you on when is the best time to get them cleaned according to the condition of your windows.
Is professional window cleaning really worth it?
Absolutely! Professional window cleaning is an investment that can pay off in the long run. Not only will you get a higher quality of work than if you attempt to clean your windows yourself, but professional window cleaners are also experts who know how to do a thorough job without damaging the panes in any way. Investing in professional cleaning also means you won't have to take the risk of getting up on a ladder yourself, which can be extremely dangerous.
Professional window cleaning is an especially worthy investment for business owners. After all, the windows are one of the first things that customers may notice when they visit your premises. Clean windows provide a better first impression and leave customers with a much more positive image of your company. Additionally, professional window cleaners can assess potential problems such as broken panes or misaligned frames, helping you to ensure that everything looks great for visitors and employees alike. In short, investing in professional window cleaning service is well worth it to keep your business looking its best and providing customers with the most positive experience possible.
All of this makes investing in professional window cleaning well worth it for your home or business. At TruShine, we offer both residential window cleaning and commercial window washing. Give us a call today to learn more: (832) 713-3545.
Do I need to provide any supplies for window cleaning services?
Generally speaking, no – most professional window cleaning services like TruShine window cleaning in Houston bring all of their own tools and supplies. This includes everything from top-of-the-line ladders to safe cleaning solutions and polishing cloths. Of course, you can always provide your own if you prefer a particular type of product or tool. However, the cleaners should be able to find what they need to do the job without your help. That said, it is still worth making sure the crew knows exactly where to find any essential tools that are already on the premises before they begin work.
Is window cleaning dangerous?
Window cleaning can be somewhat dangerous, since it often requires the use of ladders or other elevated platforms. Therefore, it is important to make sure that anyone performing the job is experienced and knowledgeable about safety protocols. Professional window cleaners are trained to work safely and follow appropriate procedures. They use spotters when climbing ladders and use the proper tools and techniques for each job. In addition, they have access to all the necessary equipment, such as harnesses, ropes and pulleys, to help ensure a safe working environment. By following these guidelines, you can rest assured that your windows will be professionally cleaned without compromising anyone's safety.
How long does a typical window cleaning job take?
The length of time required for a typical window cleaning job depends on the size and complexity of the job. Generally speaking, it takes around 1-2 hours to clean an average-sized home with a few windows. However, larger jobs can take longer depending on the number of windows that need to be cleaned as well as any other factors such as access issues or weather conditions. In some cases a team of window cleaners may be needed to complete the job more quickly.
If you're looking for an estimate for how long your Houston window cleaning job will take, give TruShine a call at (832) 713-3545.
Will I need to close my business while you clean my windows?
Typically, no special measures need to be taken when having your windows professionally cleaned. At TruShine, we work around your normal business hours, so you won't have to close while they are on the job. You may need to ensure that any nearby furniture is moved away from the windows and other items such as curtains or blinds should be removed in order to give our cleaners adequate access. After the cleaning is complete, everything can then be put back in place.
How can I tell the difference between a good and bad job after my windows have been cleaned by professionals?
It is relatively easy to tell whether or not your windows have received a good or bad job from a professional window cleaner. The most effective way to do this is to inspect all of the windows both inside and out after they have been cleaned. A good job will show no streaks or spots on the glass, while sills and frames should be dust-free. If any of the frames are still dirty and there are streaks on the glass panes, it is likely that the job has not been carried out properly.
At TruShine, our professional window washers guarantee 48 hours of streak free windows after we clean. Click to learn more about our Houston window cleaning services.
Does it make sense to invest in protective coatings on exterior glass surfaces instead of regular window washing?
Though protective coatings provide a great defense against dirt and water build up, it is still important to keep washing windows even if they do possess a coating. Over time, the coating can become damaged or worn away which would leave your windows susceptible to damage without proper care. It is essential to have regular window cleanings in order to maintain the integrity of the coating and the lifespan of the glass itself. Doing so ensures that you can get the most out of your investment in protective coatings for your exterior glass surfaces.
Does TruShine use safe window cleaning solutions that don't include harsh chemicals?
At TruShine, we use some of the safest window cleaning solutions available on the market today. Our products are formulated with biodegradable ingredients that make them safe for use around pets and children. They do not contain any harsh chemicals or solvents, so they will not damage the glass surface or protective coating.
When it comes to Houston window cleaning companies, TruShine can't be beat. Ready to get started with professional window cleaning in Houston or a nearby community? Contact TruShine today at (832) 713-3545. Click here to learn more about our home and commercial window cleaning services.
We have customers across all Houston including :
Alvin
Aldine
Atascocita
Bellaire
Channelview
Cypress
Crosh
Dickinson
Fresno
Jersey Village
Katy
Kingwood
League City
La Porte
Manvel
Pasadena
Pealand
Rosenberg
Sugarland
Spring
Seabrook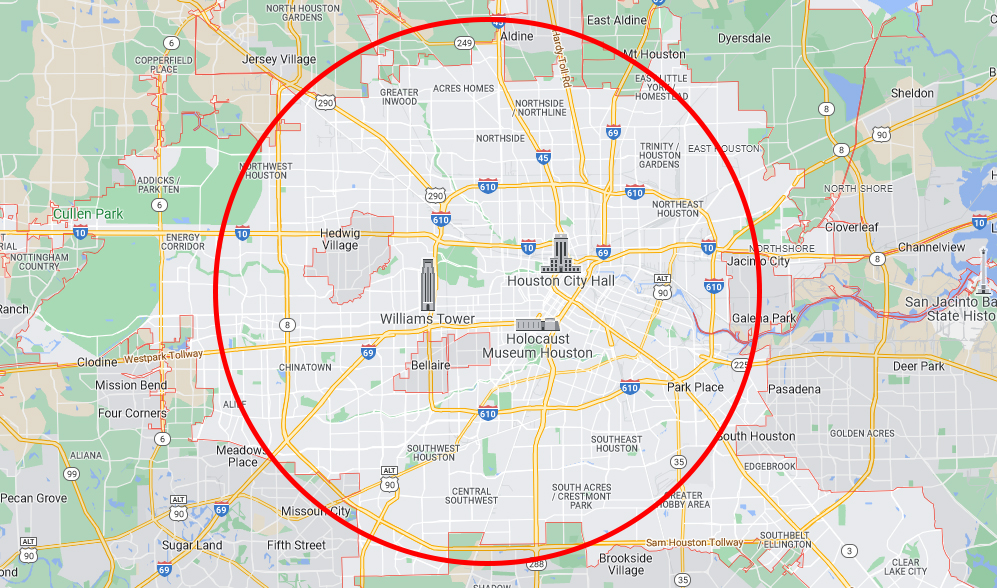 Imagine What Would Happen if Your Property is Not Cleaned. 

HOA Letters
Repeat letters from HOA, may put you in a lawsuit position.

Property Value
Your property value will May drop or your buyer will request for additional discounts.

Unsatisfied Customers
Your customers may not return due to your business appearance.

Unsafe Environment
Unsanitary Property can be hazardous to you, your customers and your pets.
Latest Window Cleaning Blog
With growing concerns about the impact of traditional cleaning products on both our health and the environment, it's time we considered more sustainable options. In this article, we will explore how to achieve sparkling clean windows without resorting to toxins or...
read more