Are you wondering what are some tools you may need to clean your windows at your house or storefront?
Well, I remember back in the day people used the old newspapers and wonder to clean their windows, I personally don't know how, but windows were always coming out squeaky clean, and shiny.
Some businesses or home owners still use the same strategy, but instead of news paper they use paper towels or paper rolls, but some business owners who are wearing multiple hats within their business, and they are successful like to hire a professional window cleaning company in Houston to clean their store front or office windows with squeegee and mop.
Well sometimes this does not mean that window cleaners actually get on top of 30 or 40 ft ladder and squeegee and mop every windows. Even though mop and squeegee are the main tools of a professional window cleaning companies (some company even pride themselves on using mop and squeegee only), but now technology has surpassed the mop and squeegee.
Companies like TruShine window cleaning which services sugar land, Katy, Richmond, and Houston, TX and always upgrading and evolving with technology, also use Waterford pole system, which helps to perform a better quality service in less time.
Water fed pole system is a purified system that contains 3 or 4 or maybe even more different filters which helps window cleaners remove all the debris on the frame and sills of each window as well. Yes this means that good ole squeegee and mop has its own flaws as well. some window cleaners that use squeegee and mop and charge a bit less than others only clean the glass and they do not mess with your window frames and sills, which leaves the home owner with clean glass and dirty frames, or the price the service lower than competitors so they can win the job, but as soon as they get their foot in the door, they will start nickle and diming the home owners to the point that they end up paying more than some of the highest bid they received. (ugh, that makes me sick to my stomach).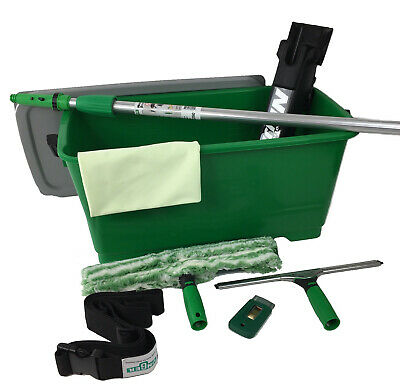 Well, with out any further due , here are some of the window cleaning equipments TruShine window cleaners carry around in their trucks at all times and you will need to clean your windows like a professional.